How to Make an Internship Work for You and Your Future
It's pretty common knowledge that internships benefit all parties involved. Students gain valuable experiential education—on many levels—and companies get fresh ears and eyes that can offer new perspectives. The inverse of that rings true: companies have a direct line back to schools via the students, helping inform educators on the latest advances in industry and manufacturing. It's a relationship that suites everyone!
At the end of the day, though, we're in it for the students. We're very committed to nurturing the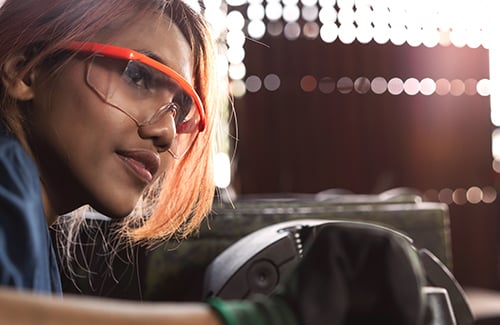 next generation of thought leaders, engineers, mechanical designers, and all the other trades, skills, and talents that make them successful within a metal stamping operation. Turns out, it also positively impacts their lives after the internship is over.
An article by The College of St. Scholastica speaks of John Pryor, a higher education researcher, involved in some very comprehensive studies. One such research project was the Gallup-Purdue Index, which studied the relationship between the college experience and its outcome in the lives of graduates. These are his thoughts on the value of internships as gleaned in the study: "One of the big findings was that college graduates who had internships in college, years later as alumni, were twice as likely than those who did not have internships to be engaged in their work and 1.5 times more likely to report high levels of wellbeing." That's impressive.
Thinking of an Internship?
If you are looking to gain invaluable real-world manufacturing industry experience, you've come to the right place! Hobson & Motzer is passionate about supporting young people interested in manufacturing and STEM fields. One of the ways we do this is by partnering with local technical high schools and colleges, and offering a variety of internships throughout the year.
The hands-on training experience our interns gain during their time with our company is tough to beat. With the medical device industry being a key market served, our interns are given important projects and responsibilities that make a large impact for the company and our customers from day one. They are always considered "part of the team" and will never feel like the guy or girl who is only here to grab coffee.
You can only gain so much knowledge from a textbook or lecture. Real-world experience provides deeper levels of development; at Hobson & Motzer, you will gain incomparable learning specific to your internship. There's also wider scope of exposure our interns receive, as they have regular interactions with different people, different departments, and different technologies, giving them a broader sense of context for how their area of interest fits within the larger scheme of operations. There is so much information to absorb and it can be overwhelming at times, but it's nothing to worry about—all of our employees are willing to take the time to explain what we do and how we do it. There are no foolish questions here!
Make it Work for You
To get the most out of an internship with Hobson & Motzer, it is important to:
Focus on building relationships
The relationships you build during an internship with us will form the groundwork of your professional network. These connections have the best potential to positively influence your career. Your manager and others you work with are the references you'll need in your future endeavors. By showing up every day prepared to be a team player, you build strong relationships that help you create a more productive internship—for all parties involved—and promote opportunities for the future.
Gain knowledge of the field
Hobson & Motzer gives our interns a look at what it's really like to work in the manufacturing industry. It is important to use this opportunity to find out what roles and fields complement your interests. Ask questions and show curiosity in a variety of roles, even if your internship focuses on a specific area of interest—for example, if you are an intern who is working in engineering, get exposure to precision CNC machining or the automation department. There is no substitute for an opportunity to engage with people who are in the field.
Build up your resume and create career goals
You will learn many valuable skills as one of our interns. If you are responsible for a project, set out to reach a quantifiable goal that you can track, reach, and report on. This is resume gold! Also pay attention to the person who has the position you are most interested in and the skills needed to advance in that career. Observe the skills they use on a daily basis: what is the behavior that makes them successful in their position, and what do they want to improve on? As you observe, you'll get an idea of what you like and don't like, influencing your long-term career goals.
Gather references and start your job search
One of the rewards of concluding an internship with us is the references. If you have worked hard, taken every task seriously, and made a great impression, we will always provide a great reference. These references will come in handy when applying for jobs once you've completed your education.
Interning at Hobson & Motzer
Ryan Wallert is a recent graduate of Southern Connecticut State University and during his last semester, he completed a sales and marketing internship with Hobson & Motzer. Here is what he has to say about our program:
"The team at Hobson & Motzer did a great job of planning my sales and marketing internship timeline in a way that would develop the skills and knowledge that I was lacking, while leveraging my strengths from past experiences. I developed a wide range of relationships from skilled operators on the shop floor, to engineers and operations people, to the company president. There was never a time where I felt out of place or unable to ask anyone a question; everyone there wanted to see me be successful."
"By the end of my internship experience, I was working on projects with the sales and marketing department that directly impacted the company, where my personal strengths were given a chance to shine. The experience of being a sales and marketing intern is what led me to develop skills that not only helped me succeed with the task at hand, but in future employment positions as well. A big thank you to the team at Hobson & Motzer—this was an experience worth every minute."
Preparing for the Future
The skills that you learn during an internship with Hobson & Motzer will take you from educated to experienced. Formal education delivers a foundation of skills, but there's no substitute for doing hands-on work in a professional setting. Feedback can be hard, but here you'll learn how to accept it and grow. You'll see how important it is to implement the guidance you're given, and how you'll become a better worker because of it. All of us at Hobson & Motzer want to see our young people grow and succeed, and will do everything in our power to make that happen.
Why it Matters
We produce precision metal parts and components used in a variety of quality-critical markets—medical devices being one of the largest markets we serve. It's important to us to support STEM related initiatives from the ground level. Keeping the next generation engaged and motivated to excel is part of the innate blueprint at Hobson & Motzer, and hosting student visits and participating in internships programs is a natural extension of this vision. We take great care with establishing proper foundational knowledge and ongoing training—whether with new students or our trusted employees—because we know how much our customers depend on our products working optimally every time, and this sets us all up for success.
Interested in a successful collaboration for your next precision manufacturing need? Contact us now! We'd love to find out how we can help.