Seeking the Solution in Students and Shifting Perceptions
It's no secret that college tuition can be financially crippling for many. In a lot of cases, the data supports that respective salaries for new-hires is inversely disproportionate to the ability to pay back student loans in a reasonable amount of time. What's worse is when those loans become a life-long burden. Next time you hop into an Uber, just ask the driver if he or she has a college degree. There's a good chance the answer is yes—and that probably wasn't part of their plan …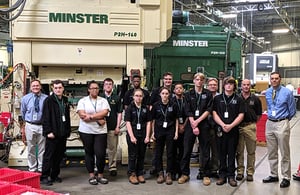 We want to be very clear: continuing education is important in whatever form it takes; we endorse and encourage it. It's more about highlighting alternatives, options, and opportunities. A four-year college isn't everyones answer, and that's more than okay. We can all relate to the above scenario—maybe personally, a family member, or a friend.
The Good News
The good news is that in skilled trades like manufacturing, we live on the flip side—there is a shortage of skilled workers that is only growing. So, there are very real opportunities to learn a skilled trade in ways that are not only affordable, but will drop you into one of the most promising job markets that the U.S. has seen for skilled trades in decades. As an industry, and in our company, we are doing our part to highlight the many options and opportunities that exist for young people. And it's working.
A recent online article published by The Quad discusses in more detail the rise in trade school enrollment. It offers this perspective: "The U.S. Department of Education reports that while there were roughly 9.66 million students attending trade schools in 1999, an estimated 16 million were enrolled 2014. In other words, trade schools are adding students roughly as fast as colleges are losing them."
Addressing the Skills Gap
There is a skills gap in U.S. manufacturing, which means there is an active, viable job market for people who attend vocational trade schools. Deloitte tells us that U.S. manufacturing job rates have been growing at double-digit rates since mid-2017. Their recent skills gap study—completed in partnership with The Manufacturing Institute—indicates a "widening gap between jobs that need to be filled and the skilled talent pool capable of filling them."
They cite three reasons that more than half of the open jobs in 2028 (2.4 million) could remain unfulfilled:
Shifting skill sets due to the introduction of advanced technologies
Misperception of manufacturing jobs
Retirement of baby boomers
At Hobson & Motzer, we actively work to counter each one of these "reasons" that people might choose a career other than manufacturing.
As stated above, we know, firsthand, about the wide gap between the skillsets needed in today's manufacturing industries and the number of well-trained people ready and excited to step into these careers. It's why we always welcome the chance to introduce our company to young people interested in manufacturing and STEM fields. Connecticut students considering their futures may not be aware of the full variety of opportunities available to them, and we do everything we can to affirm to them that they can have a financially successful, satisfying life that these careers can provide.
Manufacturing Day Event
We are preparing to participate in Manufacturing Day, a national event where manufacturing facilities across the nation are encouraged to open their doors with the vision of opening the minds of students. Ours, an invite-only event, will allow high school students to see our lean, clean, state-of-the-art facility and technology, helping to dispel the myth that manufacturing plants are outdated, cramped, and dark. Moreso, it gives students a positive, optimistic framework from which to envision an exciting, intellectually stimulating future for themselves. We will have experts in every discipline on hand—from metal stamping, CNC machining, automation & robotics, and toolmakers—who will explain their roles and answer any questions students have about life in a manufacturing company like Hobson & Motzer.
Vinal Technical High School Visit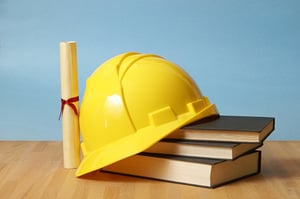 We enjoy strong relationships with regional schools and regularly host visits with students. Earlier this year, it was a great pleasure to host a team of students visiting from Vinal Technical High School, located in Middletown, CT. These students are enrolled in the Precision Machining Technology program that provides instruction in:
Machine safety
Measuring tools
Precision machining fundamentals using manual milling machines, lathes, and other metal processing machines
The program is always progressing to best align with industry standards, both regionally and nationally.
During their visit to Hobson & Motzer, the students took a complete tour of our Durham, CT facility and saw firsthand what a real manufacturing plant looks like, gaining valuable insight on methods and machines used. You could see their excitement as they got to see, in person, some of the precision machining technology that they are learning in school being put into action. The students examined precision parts being produced for the medical device industry, a major market for Hobson & Motzer.
Our student visitors also had the opportunity to hear from the president of the company; he spoke about the benefits of manufacturing careers, opportunities available, and skills needed to work in the precision metal stamping industry. Students were amazed by how much more goes on here than just machining. There's:
Precision metal stamping
Engineering
Design
Tool & die
Quality control
It's eye opening to see the magnitude of what we do and the real-world impact it has on our main mission—improving lives. When we finish these tours, students are impressed with the wide range of manufacturing career opportunities available in a company like Hobson & Motzer.
The students from Vinal Tech are an impressive group who came in with the right attitude, wide eyes, and enough curiosity to enjoy themselves. In hosting student visits, we try to settle any preconceived notions someone might have of our industry. Walking through a plant like ours definitely leaves a favorable impression of manufacturing, and provokes thought in a young mind about what is possible. We hope that their visit to our facility will serve as inspiration to the great potential a career in manufacturing has to offer as they begin planning their future, maybe even right here at Hobson & Motzer!
Why Hobson & Motzer for Precision Manufacturing …
We work extensively with the medical device industry and other quality-critical markets where innovation and precision requirements depend on advanced technology to delivery uncompromising quality every time. We are capable and dependable manufacturing partners and look forward to helping you with your medical device parts and components. Contact us now to find out how we can make your next project a success.