Planting the Seeds in Our Connecticut-Based Metal Stamping Facility
"Preparing for a career in manufacturing is no longer based on following the education standards created 50 years ago."

Powerful words from an article in Noria's online publication, Reliable Plant. That coincides, in part, with the way people now learn and what they bring to the table as they begin their careers. Many who enter the workforce these days—and certainly upcoming generations—are native "digital-agers," having grown up on keyboards and monitors. This also intersects with lifestyle and work options—this 24/7 lifestyle, which isn't restricted by physical location, " … will affect how they perceive job opportunities and how they will prepare for them. These scenarios are re-inventing the manufacturing industry as we know it."
The good news for manufacturing, which has been challenged with keeping a skilled workforce, is that this marks a shift in perception: obtaining a career in manufacturing is increasingly seen as a more viable and enviable option. With a strong, efficient, and innovative manufacturing base—one that is simultaneously supported by government policy and the large and small corporations—the
manufacturing and economic health of our country will remain vibrant. The article goes on to say, "As companies begin to re-think off-shoring, and consider re-directing their manufacturing and production facilities back to the U.S., skilled workers are and will be needed."
The view gets even better, as we see more programs and initiatives in place to foster interest in students. Saul K. Fenster, PhD, president emeritus of the New Jersey Institute of Technology, previously served as president of the Society of Manufacturing Engineers (SME) Education Foundation. His outlook is optimistic and promising: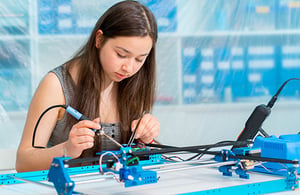 Science, technology, engineering and mathematics (STEM) education is not only a prelude to engineering, but also to innovation manufacturing in the 21st century. STEM education is also crucial to fields in all areas of society including the financial, medical and biology sectors. Engineering is a problem-solving profession, and when young people realize it is creative and fun, they are less apprehensive about its more challenging curriculum, and learning is made significantly easier.
We Agree!
Hobson & Motzer is passionate about supporting young people interested in manufacturing and STEM fields. As a responsible manufacturer, we must to do our part to help close the ever-growing manufacturing skills gap. The future of manufacturing in America depends on it. One way we accomplish this in our community is by partnering with the impressive technical high schools we have here in Connecticut. There are 20 technical high schools in Connecticut and more than half of them offer programs in Precision Machining Technology. We love to host students, give plant tours, and educate them about what we do, especially students from our local technical schools. In early May of this year, we had the honor of hosting 30 students—sophomore and juniors—visiting from H.C. Wilcox Technical High School in Meriden, CT.
These future innovators are enrolled in the Precision Machining Technology program. The program instructs on:
Machine safety
Measuring tools
Precision machining fundamentals using manual milling machines, lathes, and other metal processing machines
Students progress to using CNC machining and turning centers as early as 10th grade, becoming proficient in their operation and programming upon graduation. The program is always evolving to best align with industry standards, both regionally and nationally.
Hobson & Motzer Giving Back
Our student visitors were welcomed to Hobson & Motzer by toolmaker supervisor, Chuck Cardillo, and lead toolmaker, John Rowley—both H.C. Wilcox alumni. In an advisory capacity, Cardillo is involved with C-TECS (Connecticut Technical Education & Careers System), helping them develop strong curriculum and programs that provide students with the right skills and work habits to be successful in a modern manufacturing work environment. As an alumnus of H.C. Wilcox—and there are many alumni here at Hobson & Motzer—visits by their students have special meaning.
We offer a complete tour of our Durham, CT facility to the students. When here, they are able to see, in action, some the precision machining technology that they are learning about at school. In contrast to an instructional setting, the experience of a high-volume production environment gives students a whole new perspective. It combines what students are learning with all the other aspects of a robust manufacturing process, such as, but not limited to:
Quality control
Machine maintenance
Lean principles
Shop layout and flow
Process implementation
Various stages and types of production: tool & die making, precision metal stamping, CNC machining, automation robotics, assembly cells
Full Circle
"Coming into a production facility really takes the process and brings it full circle—how each discipline is interconnected. A lot of dynamics are involved in mass production that all need to work together," Cardillo says of these student visits. The students view precision parts being produced for the medical device industry, a key market for Hobson & Motzer. It's an industry that requires a higher level of manufacturing and engineering. These are all concepts that are well aligned with the program at H.C. Wilcox.
Students were amazed by just how much more goes on here than just machining: metal stamping, engineering, design, tool & die, quality control. It's eye opening to see the wide range of career opportunities in manufacturing that Hobson & Motzer can offer.
"The students were respectful, motivated, and interested," says Cardillo about the impressive group from H.C. Wilcox. When hosting students, we always try to leave a positive impression and show them what their future can look like in manufacturing. It's not difficult to drive that point home because manufacturing skill is a promising path—diverse, interesting, and in high demand across the United States. From some of the thank-you emails and feedback we received from our visitors, we believe we did just that!
"Thank you for giving us the chance to tour such a prestigious facility. It was an enlightening experience to see how a real company runs compared to our school." – Albert A.
It is important to Hobson & Motzer that we continue to do our part as a company to educate young people on the opportunities that exist in manufacturing—right here in our community. For the students at H.C. Wilcox, we hope that their visit to our plant will serve as inspiration to the great potential a career in manufacturing has to offer as they begin planning their future, maybe even right here at Hobson & Motzer!
About Hobson & Motzer
We work extensively with the medical device industry and other quality-critical markets where innovation and precision requirements depend on advanced technology to delivery uncompromising quality every time. We are approachable, capable, and dependable manufacturing partners.
If you're interested in finding out more about any of our precision metal stamping, CNC machining, advanced manufacturing, or assembly capabilities, we'd love to hear from you. Contact us now and let's talk.