Let's start by stating the obvious: collaboration, thoughtful insight, and clear communication are key factors in any project's success and are especially vital in any new product development (NPD). These elements ensure that all stakeholders involved are informed and understand the shared vision, the timeline, and the deliverables of the project. Having a solid foundation provides the steppingstone that sets, and keeps, the trajectory of the project on point and increases the potential for success.
It takes a small army to guide a new product from concept to design and through the rigorous development and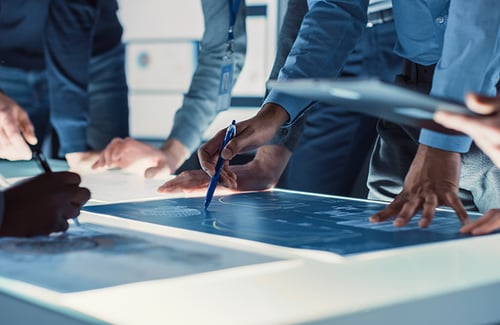 validation process. Every individual component in a device plays a critical role in its function. Engineers and designers who are engaged in NPD for med device are intently focused on the instrument: how it will perform for the surgeon, but most importantly, how it will deliver a favorable patient outcome. On the manufacturing side, the focus is on how best to make it. From an engineering perspective, the distinction between design it and make it is pivotal to this process because it blends two very different mindsets. At Hobson & Motzer, our engineering team is highly engaged in this collaborative process, providing critical input that moves a project forward.
Keeping the process moving and running smoothly is key to meeting deliverables. The engineering team at Hobson & Motzer shares an overarching role as project managers, which sets us apart from other working models we've seen in the manufacture of precision metal components and assemblies for the medical device market. This has an undeniably positive impact on the development process, part iterations, prototyping, quality, and metrology integration throughout the entire cycle. Having project-dedicated engineering team members on programs helps them move faster, allows us to remain nimble in the face of changes, and gets medical device projects to the finish line faster.
Engineering Team
To offer further context here, our engineering department consists of several types of engineers—all of whom have specific skillsets and responsibilities, and all of whom understand and interact seamlessly throughout the development and production process with internal colleagues from all departments and our medical device market customers. Here's a look at our engineering team:
Project/manufacturing engineers lead each project and are responsible for working with our skilled technical staff on product and process development, qualification and validation, and seeing the project through to production. As the process matures and gets dialed in, operations takes the lead, but the component remains under the stewardship of the project/manufacturing engineer throughout the component's lifecycle, and any iteration of it thereafter.
Quality engineers oversee inspection technology projects, qualification and validation activities and requirements, and supplier quality. They partner with the project engineer, QC, and technical staff on metrology methods and data analysis, advance the development, and establish long-term quality planning. The QE also remains with a component through its lifecycle and is an integral part of the manufacturing process from a quality perspective—inherently knowledgeable of the part and process from the start.
R&D and application engineers are responsible for developing processes and complex programming of sophisticated CNC equipment to produce complex components. They also develop, design, and build automated robotic manufacturing systems, and lead implementation of advanced technologies that propel the organization forward—whether a new manufacturing technology or new metrology. This team plays a key role in the NPD process with early DFM input and development of prototype iterations; longer term, they develop systems and processes ideally suited for large scale production.
What it Means for Customers
Customers enjoy the long-standing relationships we have with their components, and the relationship they have directly with our engineers—many of our engineers have been with Hobson & Motzer for decades. In fact, some have tenure of 30-plus years; others have been with Hobson & Motzer for 15 to 25 years. This kind of staff retention provides our customers with a sense of continuity and stability with the oversight of their products. There is a reliability factor in knowing what you will get on a project engagement with Hobson & Motzer. Professional relationships often form between our engineers and their customer counterparts, where our expertise and guidance are sought at the conceptual phase of design. Hobson & Motzer is a go-to company for expertise in metal stamping and CNC machining for metal components and assemblies.
As it relates to the high-quality, dependable, precise parts we manufacture, having long-term team members means that we own the learning curve, the legacy and current knowledge, and retain intimate details throughout the product lifecycle from an engineering standpoint. Well-documented project records are kept, ensuring a systemic knowledge transfer to all stakeholders. This deep understanding of our customers' requirements is what fuels our responsiveness and ability to anticipate best practices for design, development, and production for each program. For NPD, discussing and implementing suggestions at the onset of the part design saves time, money, and resources from the start.
In many manufacturing companies, engineering is not usually "customer facing." Our working model positions the entire engineering collective to be accessible to customers. Engineers at Hobson & Motzer are routinely involved in direct customer contact. They participate in design for manufacturability (DFM) discussions as well as periodic meetings to keep the customer up to date on project status, problems that may arise, qualification requirements, and submissions. We form a collaborative team between Hobson & Motzer and our customers on any new development project we are awarded. Project and quality engineers are responsible for production-sustaining engineering activity for the life all products. This includes newly developed product and its transition to production, as well as legacy product. Once a specific engineer is assigned to a product, it is their responsibility for the duration of that product's life.
We feel strongly that engineering support be a cornerstone and constant driving force in a manufacturing project as it relates to NPD/NPI/DFM. It's one of the reasons we launched First Step in the last few years, a revolutionary collaboration that delivers precision tolerance prototypes, a manufacturing support team, high-level metrology, and fast turnaround.
Engineering Ties it Together
Engineering ties the sciences, such as mechanics, materials, specific technologies, and statistics, with each product and process developed at Hobson & Motzer. The know-how from the standpoint of the sciences combined with that of specific processes gives us an edge on how we can best provide quality products with minimal delay. Engineers are found throughout the organization and the engineering mindset and approach resides in all levels of staff throughout Hobson & Motzer—including the president of Hobson & Motzer, the VP of operations, and staff engineers. This mindset and approach extend to toolmakers, technical support staff, process owners, and quality control personnel. The guiding principle for all products and processes, from beginning to end, is rooted in engineering.
Customer Impact
We are often contacted by customers looking for engineering solutions for specific requirements. At times, customers have traveled to Hobson & Motzer to present their challenge and seek our help to solve a problem they are encountering.
One such instance involved a customer we spent many years working with developing a process we continue to run to this day. The collaboration resulted in a mutual technical understanding of each other's processes. Hobson & Motzer's engineering and technical personnel had learned much about the customer's needs as it related to the design inputs to suit the products we provide to them. In the course of time, the customer experienced a significant structural change in their organization, resulting in changes to their engineering staff. With these changes in staff came the absence of specific design input knowledge. After the changes were complete, the customer called upon Hobson & Motzer to fill the gap and assist them in a smooth transfer of that design knowledge to new members of their staff.
From Our Team to Yours
A team that brings a 360-degree perspective from all disciplines involved in the inception, design, and production phases of manufacturing is stronger, more nimble, adaptive, and effective. We work closely with you to provide exactly that. Hobson & Motzer excels with products that require more than a single operation or products that require multiple manufacturing processes, ensuring accountability and continuity in our protocols and the highest quality, precision, and repeatability in customers' parts and components. Legacy knowledge, a deeply collaborative approach—internally and with customers—along with our vertically integrated secondary operations, give customers access to a complete suite of services and capabilities, exceptional support, and over 100 years of manufacturing expertise.
If you'd like a look inside our facility, we invite you to join us for a virtual plant tour. See what 100-plus years of legacy expertise and contemporary technology can deliver for your precision metal components. We'd love to show you around. Click here to request a tour.
If you are interested in a successful collaboration for your next precision manufacturing need, contact Hobson & Motzer now. We'd love to discuss how we can help.