Reshoring Manufacturing Checklist
Exploring Reshoring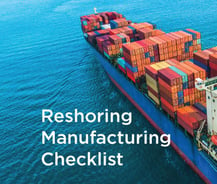 More than ever, the reshoring "trend" is a flashing neon sign that says U.S. manufacturers are open for business. The global pandemic has brought it top of mind, but there has been a quiet undercurrent of reshoring activity for several years now. There are many variables that influence reshoring.
Deeper exploration of these elements should be part of your company's reshoring assessment. We've compiled a Reshoring Checklist to help you wade through them. We also provide a section that discusses a next-steps strategy once you've satisfied your checklist and scrutinized your manufacturing partner options.
Topping the list is revisiting the math, with a number of angles—internal and external—to explore. Then you need to apply due diligence to vetting U.S. manufacturers on a number of items.
Research and Evaluate U.S. Manufacturers on:

Quality
Cost
Service Level
Technology
Talent
Innovation
Infrastructure
Automation
QMS/Standards
Engineering
Vertical Integration
Market Proximity
Stability
Ease of Doing Business
You'll receive a deeper discussion of these elements, helping you to assess your readiness to reshore, along with strategies for moving ahead with a U.S.-based manufacturer once you're ready.