The notion that the industrial market in 1912 had an appetite for a higher level of precision is what sowed the seeds for where we are today as a company.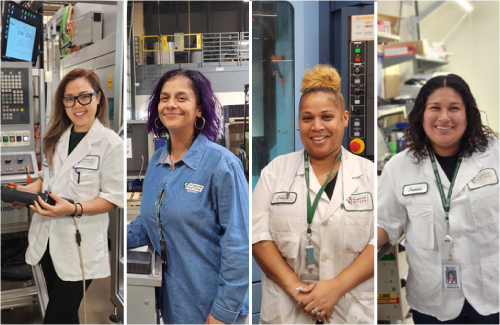 With a humble beginning and a simple sign tacked up on the side of a barn, two men with a vision, expertise, and passion opened the doors of Hobson & Motzer. Over the years, our company has grown through a combination of hard work and determination, mixed with heavy dose of innovation and technology. It is likely that neither of our founders could have envisioned their company, over a century later, would become a world-class manufacturing company serving the most advanced metal component needs in the medical device market.
It's no wonder that as we have evolved; so, too, has the make-up of our team. Today, we are a diverse company—very much reflective of America—men and women with a wide range of backgrounds who are from places, near and far. A common thread over each generation has been a culture that fosters and shares the same spirit of passion, innovation, and drive as our founders.
Each fall, our industry celebrates women in manufacturing in various ways. There was a time in our industry when far fewer women were counted among the manufacturing workforce. And while we celebrate all of our talented team members, we would like to share the journeys of just some of our female team members who help move our company forward every day: Jess Hernandez, CNC Cell Lead; Jasmine Cruz, Shipping Lead; Maribel Ramos, Receiving Coordinator; and Nina Wong, Technician.
Their commitment to learning and applying new processes and technologies ensures we deliver exceptional precision and quality in the parts and components we manufacture for our medical device industry customers who require performance-critical products
Why a Career in Manufacturing?
Women hold around 30% of the jobs in manufacturing in the U.S. This number appears to be on the upswing. Between 2010 and 2020, the number of women in manufacturing rose every year. Women in manufacturing also earn 16% more than the national median income for employed women.[i] Manufacturing continues to present a solid career option in the U.S.
At Hobson & Motzer, "opportunity" is not a catch phrase. The company's history of attracting and promoting talented individuals, including skilled women, has resulted in a broader range of capabilities that, in turn, increases the breadth and quality of the medical device components we produce.
The decision to work in manufacturing may be personal, such as following in the footsteps of family members, or an unanticipated career path after working in another field. For Jess Hernandez, Hobson & Motzer was the open door to opportunity she was seeking. After a 14-year career in the food industry, Hernandez decided to pursue a career in manufacturing.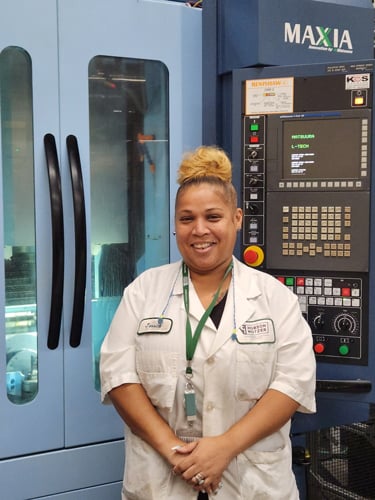 "I applied for several opportunities for a promotion, but each position was given to a man," said Hernandez. "I was told 'No,' that I needed more experience, but they didn't allow me to gain the experience."
Hernandez joined Hobson & Motzer in 2017. "From week one I could tell this was the place I was looking for. I was given the opportunity to start learning immediately. I started as an operator and have been promoted twice, and I am now cell lead for the CNC department."
A Unique Perspective
Nina Wong, a Technician, who has also been promoted several times since she started as an operator in 2019, knew that an office job was not for her. She loves the fast pace of the manufacturing environment and the technical nature of the work. She believes her ability to keep calm, listen, and ask a lot of questions are especially valuable traits that she brings to the job.
"Men and women see things differently and bring different ideas to the table. Women can be great problem solvers, and their patience and attention to detail really help to improve quality and performance," said Wong.
Receiving Coordinator Maribel Ramos' father works in manufacturing and on cars in his spare time. She said they were both blessed with a photographic memory, which is an enormous asset in her work. Ramos said that it's important to always consider the bigger picture. "You have to be diligent and work hard, and you are always aware that these components are going into someone's body. You think, 'What if this was going to be used on someone I love, or if it was one of us on the operating table?'"
A Different Skill Set
Working in manufacturing—and specifically at Hobson & Motzer—has enabled each woman to learn a unique and invaluable skill set. Ramos said that in her tenure at the company, she has sought and gained knowledge about a wide variety of subjects. "I have acquired leadership skills,
become a first aid responder, taken safety and OSHA classes, and was trained to be an internal quality auditor. It has been an amazing transition, being able to learn what I have, and to work in different areas of the company."
Some people just take to technology. As an operator, Wong learned what it took to maintain quality standards in production, but instinctively, she developed an understanding of the equipment. Maintenance requirements, troubleshooting issues, keeping production running. This understanding progressed to her role as a Technician in April. When asked how that is working out for her, she said, "I love it! There are lots of things to learn, this is very different technology. But manufacturing is very technical and methodical, and this is an environment I can thrive in."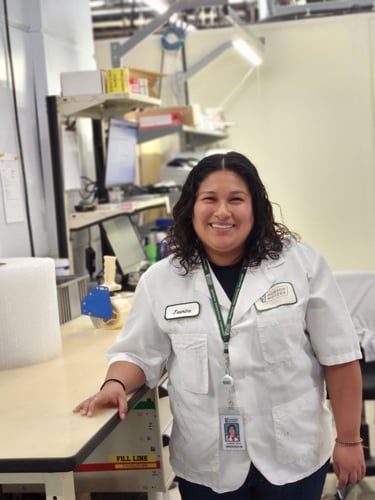 Shipping Lead Jasmine Cruz, who started as a machine operator, said it is a huge responsibility "knowing that our products are used for surgery." She said this knowledge helps her stay focused and determined. Training at Hobson & Motzer includes watching videos to understand every detail of how a product is ultimately used.
"If I didn't work here, I would have no idea what some of these instruments are. Through my training, I know the parts we make are very precise, and must be handled with care. It is my goal, every day, to make sure each component is consistently perfect for the customer."
Advice for Women Considering a Job in Manufacturing
Cruz was hesitant to work in a male-dominated environment at first. Her co-workers told her not to worry, that it was a very welcoming and diverse workplace. She found this to be true and loves her job. Cruz said she is "very self-driven" and feels very satisfied each time she makes a shipment.
"If you want to feel like you are making a difference in the world, want to develop your skills, and have an interest and motivation to grow, you can definitely find a spot in manufacturing. Every position in our company is important to producing a product that improves someone's quality of life. We all add to the puzzle in creating a product we can be proud of."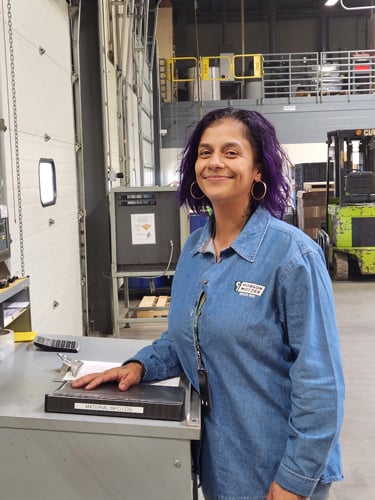 Ramos' advice: "Jump on it, don't be scared. Hold your head high. There will be bumps in the road, but there are always bumps in the road. There is always a test, something to be afraid of. I thought, 'Oh, my God, I am going to be on the forklift,' when I first did it. Some fear is good, but not too much to prevent you from doing it."
Her enthusiasm for her work is contagious: "I start motivating at 6 a.m. You have to love what you do and have your heart in it. For me, work becomes family—and I like to say I made a family here. I am grateful."
The Hobson & Motzer Team
Hobson & Motzer's success over the years can be attributed to the contributions of a consistently talented team. A team that the company has worked hard to develop and maintain from generation to generation. Women in our company succeed because they are talented, supported, and encouraged; all of our employees are.
Our commitment to maintaining an active and inclusive training program creates opportunities for everyone and builds a dedicated, cohesive team who love what they do. This pride shows in our performance, quality, and reliability—and ultimately in the high-quality medical devices that serve to improve lives.
Interested in a successful collaboration for your next precision manufacturing need? Contact us to learn how Hobson & Motzer can add value to your next project by putting one of the best teams in manufacturing behind you.
[i] https://www.census.gov/library/stories/2022/10/more-women-in-manufacturing-jobs.html