Safety Committee Oversight and Guidance
We believe that a positive safety culture should be part of a company's DNA, with safe practices engrained in the thoughts and actions of every individual who walks through the door. A safety culture is an organizational culture that prioritizes safety beliefs, values, and attitudes throughout the workplace. Accidents and injuries can have a ripple effect that impact, not only an individual, but the company as a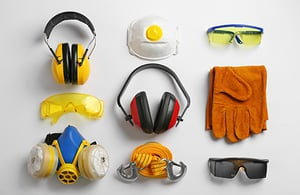 whole … including customers. We produce parts and components for the medical device industry—and our customers rely on us to deliver top-quality parts consistently and on time. Maintaining a strong safety culture promotes a safe work environment in our plants that lends itself to keeping our associates safe, our equipment running, and our deliveries on time. This is critical to our company's ability to perform at the highest level.
Who is responsible for safety in the workplace? Everyone. And here at Hobson & Motzer, we take safety very seriously; it is our number one priority. We've previously discussed the importance of having a safety program in place, and today we'd like to highlight a key component to our safety culture, our safety committee.
Oversight and Guidance
Hobson & Motzer's safety committee provides leadership, oversight, and guidance—helping to align the organization's safety goals with our efforts on the shop floor and elsewhere. This is an all-volunteer committee of dedicated people who also work to increase associate engagement in their daily activities relative to safety, safety initiatives, and compliance. Most importantly, they provide a structured means for associates to identify and express concerns, as well as offer resolutions to correcting and improving workplace hazards and processes. They lead by example and act as safety ambassadors for the safety program.
Our safety committee was formed over 20 years ago. Members are associates from nearly every department. Today, the safety committee is comprised of 18 members between our Durham and Wallingford plants. Many committee members have attended OSHA courses, and internal training is ongoing. From the beginning, our goal has been to protect everyone in our plants from injury—whether a fellow associate, a vendor, or a visitor—by creating a safe environment. The Hobson & Motzer safety committee members are the eyes and ears of the company and a constant reminder keep safety first.
The Role in Promoting a Safety Culture
The role of our safety committee is to:
Promote safety and implement ongoing training for all employees
Meet bi-monthly to review any accidents that resulted in injury and "near miss" reports that didn't; discuss accident prevention approaches, safety, and health awareness efforts, hazards noted on inspections and safety issues coming from employees
Conduct thorough, bi-weekly audits on the shop floor to identify any safety or health concerns and constantly be on the lookout for safety violations
Develop corrective actions based on audit findings
Post safety bulletins that can be visible throughout the building
Executing these steps, Hobson & Motzer promotes a positive safety culture for all associates, while giving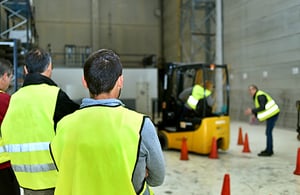 everyone a voice in creating a safer workspace. We can identify issues quickly and resolve them before injury can occur.
Hobson & Motzer believes in continuous improvement and we have some exciting transitions coming for 2020 that include adding more JHAs (job hazard analysis) and implementing DuPont™ STOP® (Safety Training Observation Program). We will share more on that in the coming months!
Shared Vision Within the Medical Device Supply Chain
We specialize in manufacturing precision metal parts and components for the medical industry and do so through a variety of capabilities: metal stamping, CNC machining, PECM, automation—all of which require skilled technicians who can work with heavy machinery and advanced technologies. Throughout it all, we maintain our mission as our guidepost: improve lives, advance technology, and transform metal. It's fitting that, as we supply the medical device industry with the tools they need to achieve positive outcomes and help improve lives, we are diligent in our approach to maintain the safety of those who help manufacture this transformative metal. As we said, we take safety—and our responsibility within the medical device supply chain—very seriously.
Sustaining a safe workplace is crucial for the overall success of any business—and we've seen improvements in morale, production, and retention, all of which are vital to the growth of our business—and ultimately, the satisfaction of our customers. We've experienced the positive benefits of having a safety committee. What can it do for you?
If you're interested in finding out more about our safety program or any of our precision metal stamping, CNC machining, advanced manufacturing, or assembly capabilities for medical device companies, we'd love to hear from you. Contact us now and let's talk.