Hobson & Motzer at the Forefront of Leading Change and Advancing Technology
The theme of this year's World Innovation Week was "step out and innovate," and for more than a century, Hobson & Motzer has been doing just that. From our commitment to quality, to expert collaboration, to our understanding of the latest advances in technology, we are dedicated to addressing our customers' most complex needs.
Let's look at how Hobson & Motzer unleashes innovation in five key areas.
CNC Machining
With some of the most precise and versatile CNC equipment available, Hobson & Motzer is an innovative leader in precision machined components. Our tremendous flexibility allows us to apply the most suitable technology for each application. We also design and build state-of-the-art robotic controlled automated systems in high-volume applications for maximum efficiency.
But it's not just our high-precision CNC machining centers. The key to our expertise in machined components is our team of expert applications engineers who have extensive experience in the medical device, aerospace, automotive, and mold-making industries. The breadth and depth of our experience drives innovation and out-of-the box thinking that benefits your NPD project.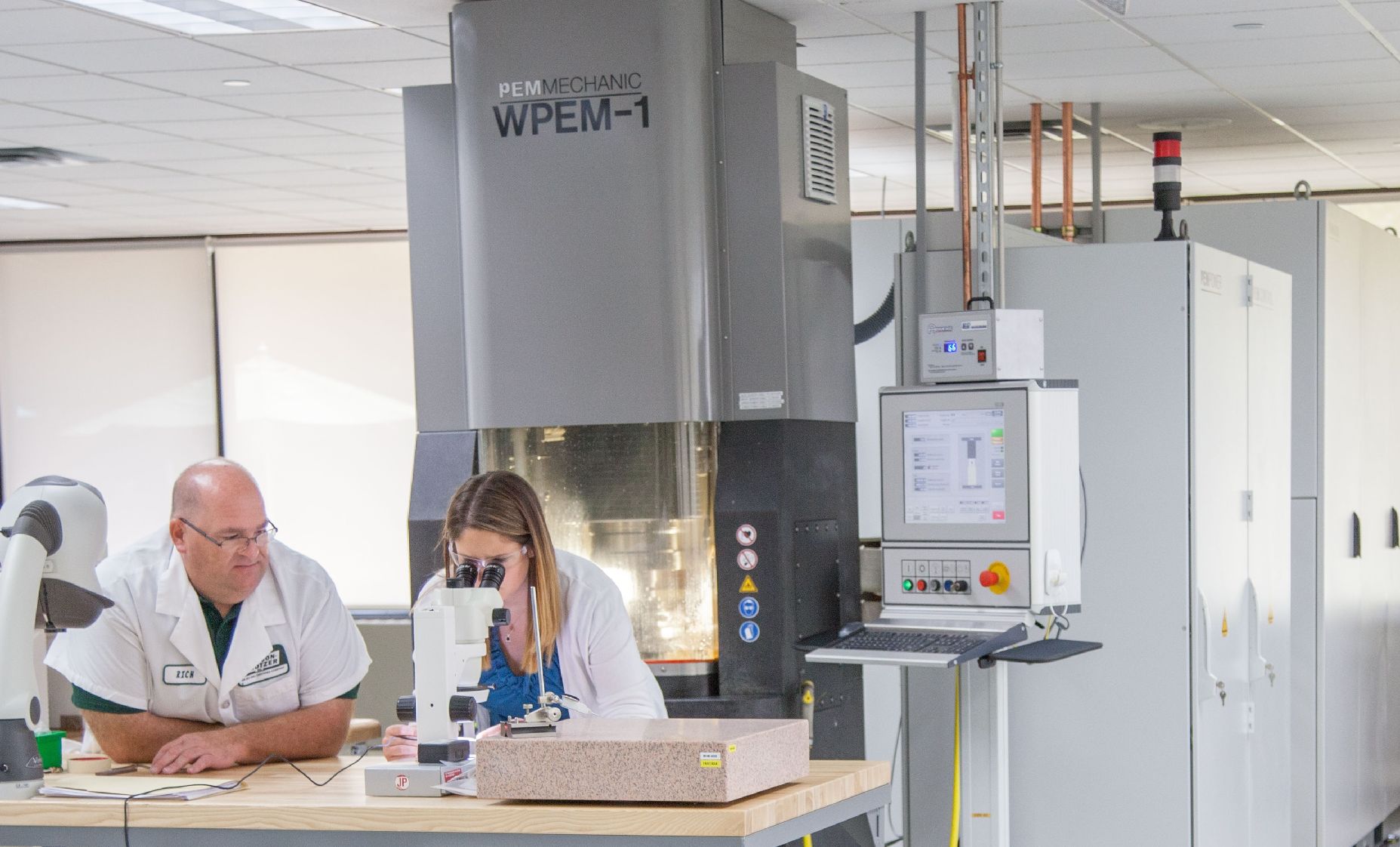 Precision Electro-Chemical Machining (PECM)
Advances in technology, particularly in the medical device industry, often call for smaller components that demand precision tolerances without compromising strength. At Hobson & Motzer, we innovate with next-level PECM technology that enables high-precision machining on any hardness material, with consistent results. In our advanced manufacturing center, intricate designs become a reality for a wide array of applications.
First

Step
Hobson & Motzer unleashes innovation with First Step, our project-based rapid precision prototyping program. This comprehensive platform was designed to support new product development (NPD) for next generation medical devices.
This program allows our manufacturing and tooling experts to collaborate with design teams and provide the depth and dedicated resources to elevate and drive the NPD process forward. We are a true development partner that offers DFM expertise and precision where it is needed, adding significant value to the NPD process.
Progressive Die Tooling
At Hobson & Motzer, innovation begins with design and is then realized through the skilled craftsmen in our state-of-the-art toolroom. With more than a century of tool-making experience, we design and build high-quality, progressive die tooling for some of the most complex and challenging precision metal stampings.
Our commitment to innovation begins with the design process. Our tools are designed for robust performance, efficient tool maintenance, and long-term reliability. Our company has more than a century of toolmaking experience and know-how to lean on; this is the foundation of our drive for innovation and dedication to quality.
Metal Stamping – Servo Press
Through our proven manufacturing process and industry-leading technology, Hobson & Motzer creates innovative solutions for complex metal stampings for the medical device industry and other advanced industries.
We excel at high-volume, tight-tolerance progressive die stamping. Our press room capabilities range from 30 ton up to 660 ton, offering a range of technology from straight side and knuckle presses to high-speed and servo presses. Servo press technology offers the ultimate in flexibility for the most complete precision metal stampings.
Innovation for the next 100 years
Hobson & Motzer has the resources, equipment, and experience to build a solution for your most quality-critical medical components and precision metal stamping applications. Our unique formula—combining the best equipment and the most skilled manufacturing professionals to meet the most challenging needs of the market—has been the key to our evolution and success in manufacturing and product development for more than a century.
Whatever advances technology may bring, Hobson & Motzer is ready to continue unleashing innovation for the next 100 years.
If you are interested in a successful collaboration for your next precision manufacturing need, contact Hobson & Motzer now. We'd love to discuss how we can help.