A Long History of Shared Knowledge
Apprenticeship programs have long played an important role in the trades. Craftsmen and artisan guilds in medieval Europe enabled young people—typically around the age of 12—to learn skills from guild masters, as they advanced through the stages of apprentice, journeyman, and finally master.[i]
In 1563, the first national apprenticeship system was introduced in England by the Statute of Artificers and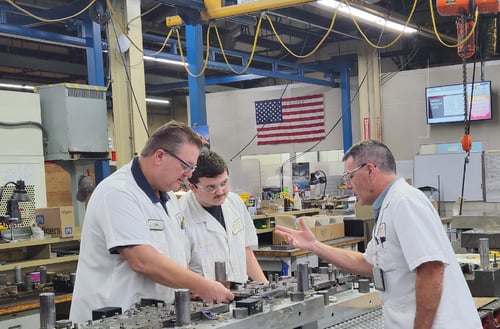 included conditions similar to today's standards: masters should have no more than three apprentices and apprenticeships should last seven years.[ii]
The early settlers brought the English system of learning a trade in exchange for one's labor to the United States, where the apprenticeship model has evolved over the years. Early Americans had to adapt Old World practices to New World realities. In subsequent eras, expanding markets, tensions between organized labor and capital, industrialization, and upward social mobility have all impacted the role apprenticeships play in American manufacturing.[iii]
An Aging Population and the U.S. Apprenticeship Program
In 1911, apprenticeship programs were formalized in the U.S. when Wisconsin created the first state-Registered Apprenticeship system. In 1937 Congress enacted the National Apprenticeship Act (Fitzgerald Act), which established the program as it exists today.[iv]
By the mid-1940s, there were approximately 6,233 Registered Apprenticeship programs nationwide, educating and training 4,000 apprentices. In 2020, the number of active programs was 10,165 with 275,324 active participants. Within this, the manufacturing sector represented 1,682 active programs with 16,510 participants.[v]
One of the biggest challenges facing manufacturing companies today is the aging workforce. As of 2017, almost 25% of manufacturing workers were 55 or older.[vi] This is not lost on the manufacturing sector. A 2019 Manufacturing Institute study found that 97% of respondents were aware of the issue, with nearly 50% being very concerned about the brain drain associated with aging workers. However, almost 90% of the companies reported capitalizing on the talents and experiences of older workers.[vii]
The loss of an experienced workforce can be costly for manufacturers, in terms of the lack of knowledge transfer leading to missed opportunities, project delays, and other factors impacting the bottom line.
Manufacturing Apprenticeship Programs: Real ROI
In the U.S., manufacturing accounts for 11.39% of the economy, while in Germany manufacturing accounts for nearly 25% of the country's economy. Much of the robustness of this sector can be attributed to the dominant role apprenticeship programs play in Germany. About 500,000 Germans enter the workforce annually through these programs, providing a steady supply of highly qualified workers.[viii]
The benefits and ROI of an apprenticeship program are significant. In addition to combating the deficits of an aging workforce, apprenticeship programs build a pipeline of skilled workers, help to retain employees, reduce labor costs, and ensure process continuity.
With no disruptions as one generation passes the torch to the next, workers benefit from working side by side and passing along their knowledge. One study found that apprenticeships increase worker productivity and provide real economic incentive: "Employees who graduate from an apprenticeship program will add about $59,000 in productivity benefits over the medium term (9 years), and about $124,000 over the long term (36 years)."[ix]
A History of Learning for Success
Founded by tool and die makers, Hobson & Motzer has long recognized the intrinsic value of a robust apprenticeship program in a manufacturing environment. Since around 1917—when the first technical school system emerged in Connecticut—the company has been an active partner with vo-tech schools to ensure a deep bench of well-trained, committed, and enthusiastic employees. In addition to our tool and die maker apprenticeships, Hobson & Motzer also recently started a tech support apprenticeship program.
Fifty-one of the company's team members graduated from Connecticut vocational and technical schools, including company president Bruce Dworak. "Central to Hobson & Motzer's success is our apprenticeship program, which ensures we have workers of varying experience levels who can share their knowledge and mentor the next generation," says Dworak.
Becoming a tool and die maker requires a real commitment on the part of the apprentice. The program requires 8,000 hours of on-the-job training and coursework, and takes about four years to complete.
When looking for potential apprenticeship candidates, toolroom manager Bill Macri says he looks for people who possess a mechanical aptitude. "I like to poke at what they like for hobbies. For example, if they had dirt bikes and things that they worked on as a kid, it shows an ability to work with their hands and figure stuff out."
Current apprentice Angel Miranda came to Hobson & Motzer after graduating from technical school with electrical training and finding it difficult to find a job, as everyone wanted hands-on experience. He started as a machine operator, and soon applied to become an apprentice in the tool room. He loves the challenge of learning new skills and is proud of "being part of a team that is creating precision parts that make a real difference in the world."
Lead die maker Pat Olszewski graduated from H. C. Wilcox Technical High School in 1975. After working at Hobson & Motzer, he went on to open his own tool shop, then came back to Hobson & Motzer in 2011. He believes that not enough young people are getting into the tool and die trade. "Not everyone is made to go to college. Trade school is a great option to explore. It's challenging and a continuing learning curve. I am 67 and still learning new things."
Mentoring the Next Generation
Ensuring the next generation of success at Hobson & Motzer means not only looking to the future with next-generation medical devices, but also to the next generation of craftspeople. The company's apprenticeship program ensures that a committed workforce of talented tool and die makers is always ready and available to create exceptional tools and troubleshoot in a demanding, fast-paced environment.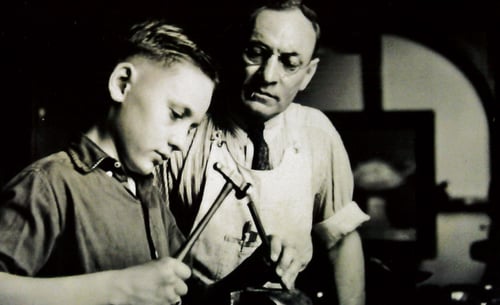 James Kolman began his apprenticeship with Hobson & Motzer in 2008. He originally studied carpentry in tech school but discovered the work didn't offer the challenges he now enjoys as a tool and die maker.
Like many young people, he had never heard of tool and die making, and family members discouraged him from pursuing a career in manufacturing. "Everyone was talking about manufacturing as a dying thing, that everything is going overseas." Now he earns more money than some family members who spent four years in college.
Apprenticeship programs not only provide a well-defined career path for ambitious job seekers, they can have a positive impact on the bottom line. With an ever-aging workforce in the U.S., active apprenticeship programs can help manufacturers retain a cadre of highly skilled workers and avoid costly disruptions and loss of knowledge as older workers retire. By investing in apprenticeships, companies benefit from decades of knowledge-sharing and skill-building, which may, in turn, strengthen the manufacturing sector and keep more industrial jobs in the U.S.
Kolman says that his experience at Hobson & Motzer couldn't be any farther from outdated perceptions of manufacturing jobs as being at dirty machine shops where you earn low wages. "This is not your grandfather's machine shop. Tool making takes real skill and finesse. The level of precision and high tolerances required—some as fine as 1/20th of a human hair— this is the kind of work that can't be sent overseas."
Why We Do It
It's important to us to support the next generation looking to have a viable, meaningful career in manufacturing. Keeping all levels of our team engaged and motivated to excel is part of the innate blueprint at Hobson & Motzer. It benefits all stakeholders: co-workers, customers, and the people who rely on the precision of the parts and components we create—surgeons and their patients.
Interested in a successful collaboration for your next precision manufacturing need? Contact us now! We'd love to find out how we can help.
[i] https://www.socialstudies.org/system/files/publications/articles/se_77021364.pdf
[ii] A short history of apprenticeships in England: from medieval craft guilds to the twenty-first century (parliament.uk)
[iii] https://eh.net/encyclopedia/apprenticeship-in-the-united-states/
[iv] https://www.dol.gov/agencies/eta/apprenticeship/policy/national-apprenticeship-act
[v] https://www.dol.gov/agencies/eta/apprenticeship/about/statistics/2020
[vi] https://www.themanufacturinginstitute.org/research/the-aging-of-the-manufacturing-workforce/
[vii] https://www.themanufacturinginstitute.org/wp-content/uploads/2020/03/MI-Sloan-Aging-in-the-MFG-Workforce-Report.pdf
[viii] https://www.npr.org/2018/01/04/575114570/robust-apprenticeship-program-key-to-germanys-manufacturing-might
[ix] https://wdr.doleta.gov/research/FullText_Documents/ETAOP_2012_10.pdf