A Company's Retrospective
Countless elements of life, work, relationships, community have been tested—literally and figuratively—these past couple of years. It's an understatement to say that we have all been challenged, and ultimately, changed by it all.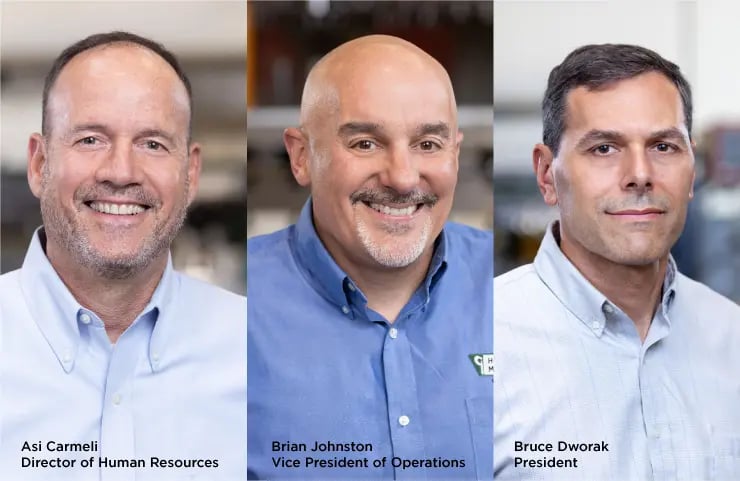 It's well recognized that psychological flexibility and the ability to generate multiple coping strategies play integral roles in adaptability when faced with continuously changing environments or stressors. We witnessed this play out in our approach to business since 2020—both from the impact on our very human workforce to the strategies we employed with suppliers, production, and delivery overall. Much of the lessons we learned during this period remain with us. Though we can say that while we did pivot often, we made all our decisions in alignment with the four guiding principles we follow at Hobson & Motzer: integrity, humility, passion for excellence, culture of innovation.
Remaining consistent with these pillars mattered to us because so much was on the line—people's health and safety, which we regard above all else, along with the mission we have in supplying the medical device industry with top quality, precise components to help them serve their customers—namely, surgeons and patients—ultimately for the benefit of their health and safety. Aware of the divergent views on the pandemic on all levels and for many reasons, we remained transparent and open in our communication with employees and customers. Especially during such unpredictable circumstances, this was one constant people could rely one, and it solidified trust in our relationships.
Going Above and Beyond
As Asi Carmeli, our Director of Human Resources states, "When it all started, like everyone else, we were flat footed. But before any guidelines were enacted, we sent everyone home for two weeks, paid time. We also went above and beyond most CDC guidelines—some of which were less profitable, but not as important as safety was, and is, to us. When our workforce came back, we had a testing station set up in the parking lot, which was reassuring to people; had sanitation stations inside—even made our own sanitizer from supplies we bought because bulk product was not available; put plastic shields in place; re-organized workstations so people wouldn't have to work too closely; and enacted a tracing program to keep people informed, among many other considerations to ensure comfort levels. There were so many variables to juggle, but we kept safety and respect at the forefront of the decisions we made with regard to our workforce—as we always do." In fact, Carmeli and Vice President of Operations Brian Johnston greeted employees at the testing station every day—Johnston in the morning and Carmeli in the afternoon. As Johnston recalls, "This sent a message that the situation was serious, while simultaneously underscoring that we were very much in it with them and for them."
Workforce Development
We don't take caring for our workforce lightly. We have skilled experts in many fields and invest time and money to train, nurture, and advance people. We always try to fill positions from within first, which creates opportunities to train and/or promote others for the positions that get vacated. Drive, curiosity, and initiative can take people a long way at Hobson & Motzer. We all benefit when people are engaged and invested in a career with us—not just here for a job or a paycheck. Referrals remain a strong area of attracting and hiring candidates.
Manufacturing on a whole continues to be challenged with keeping the talent pipeline full—and we are experiencing that as well. As production demand rises, the workforce challenges also increase. It takes five percent more people to cover the same hours on the production floor as it did prior to the pandemic. Our approach above, combined with our active outreach with local tech schools, high schools, and community colleges keeps new, eager talent connected with Hobson & Motzer. We currently have several technical school students and engineering interns working with us and are excited to see their enthusiasm and knowledge grow—whether or not they remain with us once they graduate.
Many employees here take advantage of our tuition reimbursement program. We encourage entry-level employees to continue on a career path with us, and we actively promote training and career opportunity and advancement. As Bruce Dworak, Hobson & Motzer's President states, "There are many avenues to take within manufacturing—leadership, technical support, machining, maintenance, tool & die, and quality, to name a few. We have an established training system to get people up to speed so our operations remain fluid and consistent. Given the medical device industry we serve, it is vital that we drive engagement with employees and impart knowledge of the criticality of making our products to the highest standards."
Capital Investment for Redundancy and Innovation
In the spirit of innovation, Hobson & Motzer continues to invest in our capital budget—$10 million most recently—to become as self-sufficient as possible. To augment vertical integration and redundancy, we added to our automation team, which involved hiring full in-house application and automation teams. "We never slow down with innovation and improvement. Keeping our technology and equipment fresh is ultimately advantageous to our customers," adds Dworak.
One scope of this expenditure is to create the ability to do more with less direct-touch labor. We have a robust system for achieving that, given the depth and breadth of our investments on in-house capability for sophisticated automation. Our internal app-development team can work with AI and cloud computing, creating our own apps, which allows us autonomy from external resources for IT support and app development—though we also have external support for redundancy, when needed.
Due to staffing shortages with OEM services, Hobson & Motzer has also fortified our internal team for machine repairs, so we have a more robust capability in-house. Laser, machine repair, electronic, and laser applications development (cutting and welding) are all capabilities that we now have within our facilities. As always, this deep investment is made with our customers in mind. Investing in technology and our workforce makes us a reliable partner in any business climate.
This era of forced change has also allowed us to shift with our supply base, establishing redundancy as we can. With suppliers and customers, we have shifted our commitment timelines to, generally, span 12 to 18 months now. Planning ahead, developing contingency plans, and working to a deeper time horizon for demand has been the best defense.
Communication Is Key
One of the biggest lessons we learned is that it often boils down to communication. We communicate with respect and transparency in all our relationships—and that makes all the difference. Whether it requires calling every supplier in North America (which our procurement team did during the pandemic; finding new suppliers that we still work with today) or having daily or weekly meetings internally or with customers, Johnston states, "Communication itself was one of the biggest challenges during COVID, and emerging from it. I have always felt that when teams get together to work on stumbling blocks in the manufacturing processes, it's not the processes that create the obstacles, it's the communication. In the end, establishing open, honest communication helped to sort out the chaos that everyone was feeling. Knowing when in-person meetings will garner the best results or when a quick teleconference will be most efficient has allowed us to adopt a hybrid system to keep us all moving forward. Communication was the cog that allowed us to be agile and act in the moment, or take a step back. It helped us to forge new approaches to forecasting and logistics planning, which have been very fruitful. Those lessons remain with us and guide us still."
Carmeli voices a similar sentiment: "We remain true to our value system and our foundational principles we build our culture upon at Hobson & Motzer: lead with humility and respect individuals. It has sharpened our confidence in the pathway we follow here. Having our workforce engaged and trusting is important, since we are in the business of saving lives and improving peoples' lives." Every bit we do to stay clear on this mission is a good day for someone. We've been in business for 110 years … and we steadily stay the course so we will be here for 110 more.
From Our Team to Yours
A team that brings a 360-degree perspective from all disciplines involved in the inception, design, and production phases of manufacturing is stronger, more nimble, adaptive, and effective. We work closely with you to provide exactly that. Hobson & Motzer excels with products that require more than a single operation or products that require multiple manufacturing processes, ensuring accountability and continuity in our protocols and the highest quality, precision, and repeatability in customers' parts and components. Legacy knowledge, a deeply collaborative approach—internally and with customers—along with our vertically integrated secondary operations, give customers access to a complete suite of services and capabilities, exceptional support, and over 10 decades of manufacturing expertise.
If you'd like a look inside our facility, we invite you to join us for an in-person or virtual plant tour (another recently inspired change). See what 100-plus years of legacy expertise and contemporary technology can deliver for your precision metal components. We'd love to show you around. Click here to request a tour.
If you are interested in a successful collaboration for your next precision manufacturing need, contact Hobson & Motzer now. We'd love to discuss how we can help.