Evolving Technologies with Next-Level Capabilities
Over the past 18 months, Hobson & Motzer has significantly elevated its inspection and metrology capabilities. This runs parallel the company's historical pattern of advancing technology by consistently adding the latest manufacturing equipment and process capabilities. In med device, the cadence of innovation and breakthroughs in device technology requires highly capable, innovative suppliers. Not only to ensure product quality, it also complements the new product development process (NPD) for med device OEMs, and can actually shorten the new product development cycle. Read about Hobson & Motzer's approach to metrology and see how it can make all the difference for you.
Defining Metrology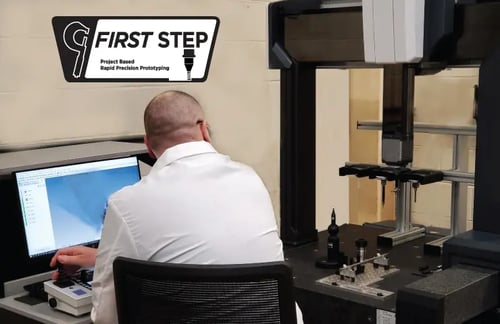 To set the stage for why high-level metrology is so vital, let's define what is not high-level metrology—basically the way it's been done for the last five decades (and the model many suppliers are still utilizing). This conventional or traditional metrology in a machining or stamping production environment works by monitoring the production/inspection/validation cycle in set intervals. Typically, the individual running the part, or the inspector in charge of checking the part, takes that part off the production floor and into an inspection environment; while this is happening, the part or the job would either stop while it's being inspected, or "run at risk." As well, throughout the runs, the operator is performing other periodic checks by eye—at times halting production to do so. The inspector runs through several physical or semi-automated processes to check the part—perhaps using a micrometer or caliper—and they'll put it on a comparator and look at it visually. It will be documented into a production and inspection report (PIR) system that, while has some digital aspect to it, is considered offline from the digital production environment.
We'd been evolving away from the above-described scenario for many years, and still aspired to create the most efficient, reliable, repeatable metrology environment available. What we wanted was a holistic platform that brought the many facets of metrology together using advanced technology. What we now have is an entire advanced ecosystem that unifies and standardizes all of the technologies: probing, vision, laser, and ancillary technologies that produce best-in-class results, regardless of the method used. We were already working with high-performance systems for each metrology process, but from different systems, which means the programming is also different, adding more steps, reporting, and synthesizing to bring the information together, all of which added time and resources to the process. Now, with our new holistic platform, we also have a stand-alone CMM (coordinate measuring machine); this is programmed with the same language, creating a seamless process.
Adapting to this new system was a long and iterative endeavor, which may be why we are among the very few who apply this level of advanced metrology to their precision metal stamping and CNC machined parts and components for med device manufacturing. Part of our blueprint as a company is that we continually invest in advancement, innovation, and top-line technology. It shows in the physical expansion we have achieved over the years, as well as in programs such as First Step, our NPD platform, which is a project-based rapid precision prototyping program—a uniquely radical approach to NPD within this sector.
Radical NPD Approach
We are proud to see how our investment in metrology complements First Step. The impact on the development process is remarkable. Again, when compared to the traditional way of taking in a request for quote, a new job for a part typically comes in as a 3D computer model. If it's a machining part, we program the machining toolpaths right to that model. In addition to that model, if it's a legacy part or historical part, there would also be a drawing that accompanies that model—though increasingly, the models we work from are computer models, which have more vital information for us, which is helpful when programming the jobs.
The key here is that modern metrology starts with the product you're using that represents the part—and that's the CAD computer model. In the same way that we use software to program cutter paths to machine material, we are able to do this with metrology—from the beginning of the production run. We can write a program in an inspection routine before we have a finished part because we're able to do it virtually. Because we continually upgrade to advanced equipment and technology, our skilled workforce throughout the organization was able to adjust to this new protocol with ease and are adept at programming inputs and analyzing outputs. The efficiencies, precision, and quality we can ensure with this system is phenomenal.
Having a system that is all programmed in the same language also helps our dedicated NPD team communicate in real time and allows us a level of agility rarely seen in companies our size. As a vertically integrated company, we saw the utility in forming an applications team that focuses solely on programming projects, so this only adds to the level of accountability, congruity, and oversight we place on every single project at Hobson & Motzer. We have big company advanced technologies and resources, fueled by the nimble and innovative approach of smaller companies.
Inspired by the Voice of the Customer
This is evident by the nature of our growth and how and why we grow. When we say we do it for the customer—we mean it. When our customers began speaking to us about wanting/needing precision prototypes with pre-production parts good to print, and with that, having data, so when they were doing their testing, they knew exactly what they were working with—we listened. And we responded with First Step and this new, stand-alone metrology lab.
Customers ask for information, such as inspection readings on a number of pieces, or for certain statistical capabilities. As well, they often want repeatability and reproducibility studies. Different studies might include inspection data, first articles, verification of the inspection method, verification of the process capability, and ongoing process capability in production. These can be run by different people, because all the machines are networked, so the data uploads into the company intranet and is archived. It's populated to special reports and also utilizes statistical packages to analyze the product quality. This eliminates any manual entry problems—handwritten data, with the possibility of transposition errors, data not being backed up, legibility issues, among other challenges—and ensures GMP (good manufacturing practices), exceptionally critical to med device manufacturing.
It's a complete ecosystem that is complemented by our state-of-the-art CNC equipment and metal-forming equipment. So when we're making prototypes, we're able to provide full data and statistics for each iteration. We complete this separately from the main production floor, and when the product transfers from prototype and pre-production into production, all inspection techniques are online and ready to go, so there is no delay with the product flow.
Repeatability and Reproducibility
This is as important to us as it is to our customers because we produce parts and components in devices that change lives—save lives, even. We must use technologies that provide repeatability and reproducibility of the measuring techniques; this is paramount to maintaining quality. When we measure parts, we measure the same part multiple times, and we get the exact same reading each time. Thinking back to the prototype into production scenario, if you're doing a manual technique in prototype and then you change to an automated method for production, the two may not correlate—and you find out later in the process that perhaps your testing isn't quite as valid as you think it is. This is an unacceptable risk for us, given the high stakes of the work surgeons do, which is what has motivated us for decades as we've adopted advanced technology with each iteration made available to us. It provides us and the customer with streamlined correlation through different phases of a product's life cycle. With medical devices, we're making a part or a small sub-assembly that goes into a larger assembly, and the sizes of these parts are increasingly getting smaller, the fits and tolerances are getting closer, and for them to function properly, the components all need to mesh together very precisely, so when they are in the hands of a surgeons, they perform dependably every time.
This higher level of precision is vital because of the sheer speed of these advanced automated CNC machines. Our ability to create a very complex inspection cycle ensures that once a job is programmed and in place, it will run the automated program that constantly and consistently checks every movement in the manufacturing of that part, and any of our trained operators can run the machine with skill and confidence.
We've been evolving in this direction for many years, so adopting and mastering new technologies is not new to us, but bringing it all together is truly a next-level capability and service we provide for customers. It's important to us to instill trust and confidence in our customers, so they can pass that on to the surgeons, and ultimately patients, who depend on our precision and quality for positive outcomes.
Nimble and Adaptive for Your Benefit
A team that brings a 360-degree perspective from all disciplines involved in the inception, design, and production phases of manufacturing is stronger, more nimble, adaptive, and effective. We work closely with you to provide exactly that. Hobson & Motzer excels with products that require more than a single operation or products that require multiple manufacturing processes, ensuring accountability and continuity in our protocols and the highest quality, precision, and repeatability in customers' parts and components. Legacy knowledge, a deeply collaborative approach—internally and with customers—along with our vertically integrated secondary operations, give customers access to a complete suite of services and capabilities, exceptional support, and over 10 decades of manufacturing expertise.
If you'd like a look inside our facility, we invite you to join us for an in-person or virtual plant tour. See what 100-plus years of legacy expertise and contemporary technology can deliver for your precision metal components. We'd love to show you around. Click here to request a tour.
If you are interested in a successful collaboration for your next precision manufacturing need, contact Hobson & Motzer now. We'd love to discuss how we can help.