Employee-Driven Initiative Motivates Other to Participate and Give Back
At a recent gathering of our associates for a quarterly communication meeting, we were delighted to have visitors Maria Porto and Melanie DiNicola, from the Cystic Fibrosis Foundation (CFF) of Connecticut, here with us. They were at our facility to accept a check on behalf of our E3 Committee and Hobson & Motzer who participated in a national Great Strides walk aimed at raising money to find a cure for cystic fibrosis (CF). There are approximately 30,000 Americans living with cystic fibrosis. They are moms, dads, sisters, brothers, daughters, sons, and friends who struggle every day just to breathe.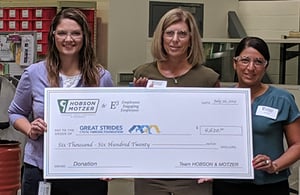 As a company of more than 350 associates, it's safe to say Hobson & Motzer has some people power! With any large group, it can be a challenge to keep people engaged and truly feeling part of the team. So here at Hobson & Motzer we have our E3 Committee, short for Employees Engaging Employees. E3 is a group of volunteer associates who tackle the challenge of employee engagement in our company. The group meets monthly to discuss ways to keep morale high and our associates involved. Many of their efforts are internal to the company, but often they rally our "people power" around a good cause. That was the case with the Great Strides CFF walk that Team Hobson & Motzer participated in this year.
Close to Home
This event has very special meaning to one of our employees and E3 committee member Christina Fassbender, whose family has been personally impacted by cystic fibrosis. Great Strides raises awareness, money, and support for people with CF and their families. Since 2010, Christina has been a walker in Great Strides in support of her cousin, Heather, who suffered from CF for many years. Sadly, Heather lost her battle with cystic fibrosis in March of 2018 while working to recover from a bilateral lung transplant. "I continue to participate in the Great Strides walks in her memory and to help find a cure for others that suffer from cystic fibrosis," said Fassbender.
E3 committee members decided to get behind this event as Team Hobson & Motzer to support their colleague and help the continued efforts to find a cure for CF. Individuals created fundraising profiles and sought donations before heading to the beautiful shoreline of Madison, CT to attend the charity 5K walk. Together, the walkers on Team Hobson Motzer raised an impressive $3,310! Through a generous company match by Hobson & Motzer the grand total presented to the Cystic Fibrosis Foundation was $6,620. The Great Strides event in Madison raised a total of $70,436 with our team solidly in the in the top five for fundraising donations.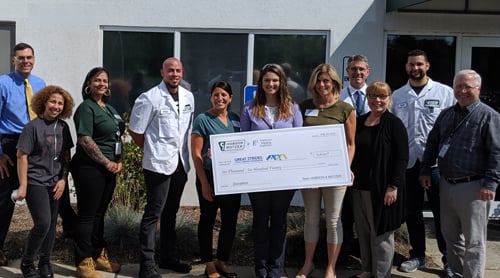 Aligning with Our Vision
This was a meaningful event for many reasons. As a company, Hobson & Motzer's work centers primarily on the medical/medical device markets; we like to say our purpose as a company is about improving lives, advancing technology, and transforming metal. The metal components we produce aim to do some good in the world. Great Strides was fitting event. The good people at the Cystic Fibrosis Foundation will use the money we raised to make progress against this disease to improve the lives of those who suffer with it. It is often humbling to be a part of movement like this; the momentum of this organization, the volunteers, the walkers, and contributors is inspiring. We were just a small part of it, but for us, coming together as a team and making our little mark is worth its weight in gold. It is a powerful reminder of everyday things that are easy to take for granted.
"It's overwhelming the amount of support we received from your company, I can't tell you how much we appreciate your generous donation," said Porto. When given the opportunity to speak, DiNicola shared with our group that her daughter suffers from cystic fibrosis. "Words cannot express how grateful I am to you and your employees." Porto shared that many of Great Strides teams have been together for years, and added, "As a first year team, Team Hobson & Motzer was a top-five fundraiser for us. That's never happened before!" Needless to say, we are collectively humbled and proud to have participated.
We like to share stories of goodwill, and perhaps inspire others to join the cause. We have genuinely good-hearted associates here at Hobson & Motzer. Thank you to the members of our E3 committee for organizing the event, everyone who donated, and all who work to improve the lives of others.
Reaching Goals
Reaching goals is a core value at Hobson & Motzer—and something we are proud that all employees take to heart. It's part of what makes as a cohesive, collaborative force—internally and externally. This affects everything we do as a precision metal machining, stamping, and assembly provider and translates to our ability to produce and deliver consistent, top-quality precision metal parts and components to our customers. We're happy to collaborate with you on your next project. Contact us now to find out how we can help you reach your goals.