Talent, Skill, and Ambition Forge a Career Path at Hobson & Motzer
By Asi Carmeli, Director of Human Resources, Hobson & Motzer
A big part of what makes Hobson & Motzer so successful is our focus on precision, quality, and innovation in advanced industries like the medical device market. Since our founding in 1912, we have developed a reputation as the "go-to" manufacturing company for performance-critical components and assemblies, and new product development projects. Behind every product we manufacture is a team of talented employees whose commitment and dedication to excellence keeps our customers happy and returning to us for repeatable, dependable solutions.
Just as manufacturing processes and technology have evolved over the years, so has the composition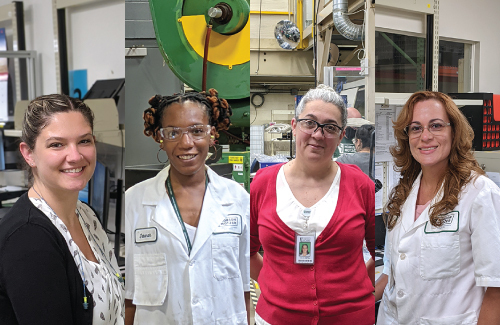 of the workforce. Today, women represent around 33 percent of the manufacturing workforce.[i] A 2017 study found that 62 percent of female respondents somewhat or strongly agreed that women have made significant progress in the manufacturing industry over the last five years. However, a lack of promotion opportunities and challenging assignments were among the top reasons cited as barriers to success. [ii]
Hobson & Motzer has long supported staff development by blending a mix of raw talent, technical aptitude, and ambition with growth and career opportunities. We are proud to have built a diverse, high-caliber team, with women represented at all levels within the company. Last year, Hobson & Motzer honored three milestone employees who celebrated their 25-year anniversaries with the company. Of the three, two were women—Marcia who started as a machine operator and is now our Shipping Coordinator, and Kim, our Compliance Manager, who began her career with the company in an administrative support role. Kim was also recognized by MetalForming magazine in 2020 for her role in encouraging women to pursue careers in manufacturing.
As Director of Human Resources, I have seen how our history of hiring and promoting talented individuals, including skilled women, has enabled us to attract a wider range of talent. Women see manufacturing at Hobson & Motzer as a viable career path, one that they may not have considered in past years. Through training and mentoring, we provide opportunities for people to grow and tackle new challenges. It's an exciting time for women to be in manufacturing.
Both Marcia and Kim began their careers in manufacturing at a time when that path was less common. Today, to their many colleagues, their achievements serve as a symbol of their own potential. More and more women are seeking careers in manufacturing at Hobson & Motzer than ever before. Meet a few of our team members and join us in celebrating their successes!
Jatanah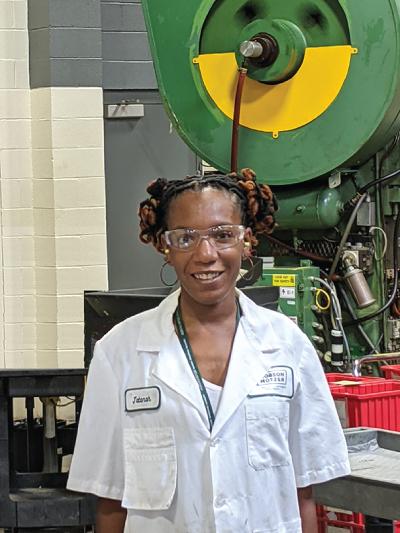 Jatanah had always wanted to work in manufacturing. Her previous job was located just down the street from Hobson & Motzer, and one day she asked an employee who was leaving work about the company. Intrigued, she applied for a CNC position. During her interview, she learned that there was an opening in the press room, a position she was not familiar with. After a tour of the facility and learning more about the job, she was hired as a press operator in our coining division.
She finds the work environment peaceful and enjoys the challenges of learning new things every day, such as operating a different press or changing out coil stock. While working in a press room is somewhat atypical for a woman, Jatanah says her male co-workers are very helpful and always available to answer questions.
What most surprised her about working in manufacturing was the emphasis on quality and safety, and how much the company cares about their employees. "The higher-ups know my name and they really care about keeping employees safe."
Jatanah also appreciates being part of a team where her ideas are valued and some of her suggestions have been implemented. When her department recently got a new machine, she was part of the inspection team. She is now passing on her knowledge as a mentor, training a female co-worker on how to operate the press machine. Jatanah loves learning new skills and is training to become a level-two operator.
Christina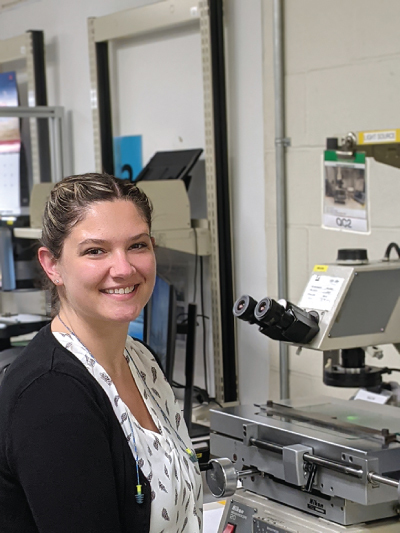 Christina has always liked math and science, and during her college summer breaks she worked in a factory that manufactures vibration test equipment. She joined Hobson & Motzer as a Product Manufacturing Engineer because she was attracted to the innovative, fast-paced environment.
Being a woman in a manufacturing environment has never felt unusual to her. As an engineering major, only about 10 percent of the students were women. She believes women bring a different perspective to the table, drawing upon their creativity and willingness to approach problem solving from a more "outside the box" methodology.
Christina is part of KATA Girl Geeks, a group that has fun using the KATA scientific approach to solve interesting challenges outside of work. A recent challenge the women solved was how to help a member improve her golf swing! Christina says that being part of the group has helped to grow her problem-solving skills at work with the KATA scientific approach to problem solving.
For Christina, the best part of being an engineer is "learning about new technologies and innovations throughout your whole lifetime" and she loves being part of the team at Hobson & Motzer, where the work is ever-changing and challenging.
Yaya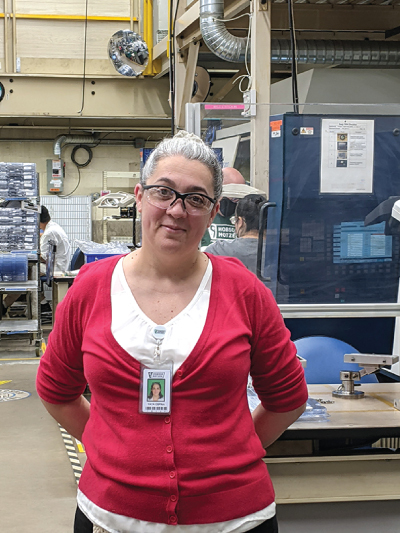 One year ago, Yaya was promoted from a Group Lead to a Supervisor position at Hobson & Motzer. Before she moved into her supervisory role, Yaya trained as an operator to learn first-hand about manufacturing—and importantly, quality and safety. She had worked in one manufacturing environment previously, in packing and shipping, where quantity was a priority over quality.
When she first joined Hobson & Motzer, her primary concern was to earn a living and pay her bills. But now she says, she has found her calling. She says her work doesn't feel like a job and she loves being able to help employees and their families. "Manufacturing with a heart. I have found it; it's here. This is what I have been looking for all my life."
Yaya says that Hobson & Motzer is a family business. "You feel part of the family. The owner walks by and says, 'Hi Yaya, how are you?' He knows my name and that is amazing." She feels appreciated and that her ideas are valued. "When I talk, they listen. I am growing, not just as a professional, but as a person."
She feels that women can bring a lot of ideas to the manufacturing workplace because they have a lot of different experiences to draw from and are willing to think outside of the box. "There is a lot of potential for young women to go into manufacturing."
Yaya, who recently completed a course in lean manufacturing, has trained several women co-workers, who have since been promoted. Her advice to women working in manufacturing: "Don't wait for it. Don't wait for anyone to find you. You go and find it and learn what you need to learn and be confident that as a woman you have abilities to bring to the table."
Luz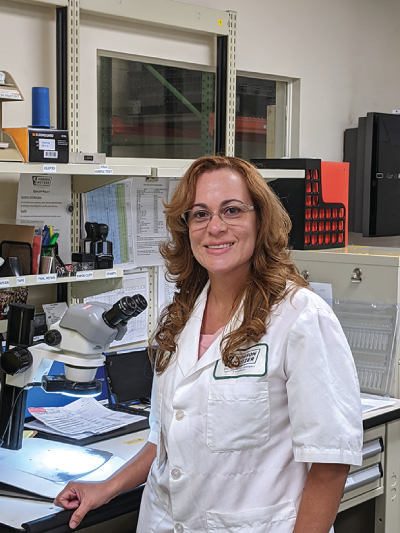 When she attended a job fair, Luz hadn't intended to look for a job in manufacturing. As a former preschool teacher, when she was called for an interview, she thought, "I don't think this is for me." But after a tour of the facility, she was impressed and decided to give it a try … at least for a few months, until something "better" came along.
Luz saw the enormous potential for growth with the company—and as someone who loves to learn—that greatly appealed to her. She started training on how to weld, assemble, and inspect parts, and learned about the manufacturing process from beginning to end. She was surprised to find that she really enjoyed what she was doing and took pride in her ability to tackle the variety of tasks and challenges that arose each day. What most impressed her was how meticulous Hobson & Motzer's manufacturing process was. She thought, "Wow, these people always make sure these parts are perfect." Given her meticulous nature, her skill set was a natural fit for the quality control team.
Now in her third year with Hobson & Motzer, she was recently promoted to a position in the quality control department. Since then, she has completed training in calibration, safety, and reading blueprints, along with gaining new computer skills. She and her supervisor set clear expectations based upon how she wants to advance, and the company "makes it happen."
Luz encourages other women to go into manufacturing and offers this advice: "Go with an open mind. Stay positive and you will find that this is something good, something you can enjoy."
The Hobson & Motzer Team
Open communication and collaboration are part of our blueprint, so it's no surprise that these talented women continue to thrive and build a career, alongside a diverse workforce of equally skilled colleagues. Our commitment to maintaining an active and inclusive training program creates opportunities for everyone and helps create a stronger, more cohesive work culture for all. And pride in our work delivers successful customer outcomes overall.
Interested in a successful collaboration for your next precision manufacturing need? Contact us now! We'd love to find out how we can help.
[i] Thomas Industrial Survey: Women in Manufacturing Benchmark Study 2020
[ii] Deloitte 2017 Women in Manufacturing Study