Hobson & Motzer Celebrates Milestone Service Awards
As 2020 came to a close, Hobson & Motzer recognized the "25 Year Milestone Service Awards" of three longstanding team members: Marcia Zingle, Shipping Coordinator; Kim Gross, Compliance Manager; and Charles Rock, Machinist.
For many years, Hobson & Motzer has acknowledged this special achievement with a celebratory dinner and presentation of abeautiful Rolex watch. This event also signifies induction into the exclusive "25 Year Club" at Hobson & Motzer. This year's class joins the ranks of a very special group of people who—through their contribution, continuous service, and dedication—have helped shape our company into who we are today.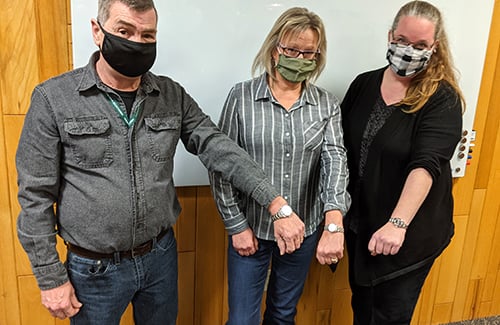 A Hobson & Motzer First
This year also marked a historical first for our company. Two of our honorees, Kim Gross and Marcia Zingle, are the first women to reach this milestone at Hobson & Motzer. It's testament to the growth of manufacturing careers for women in general and at our company. In recent years, thankfully, there has been a growing trend of young people choosing a path in manufacturing—both men and women—in record numbers. We like to think that our honorees are among those who have helped pave the way for today's young women to see a bright future in manufacturing.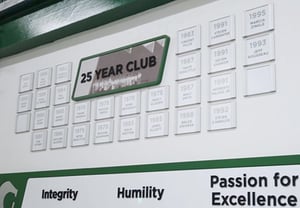 Virtual Ceremony—Another First
Sadly, the COVID-19 pandemic put off our customary celebration dinner, but it could not dampen our spirit! Like everything else these days, we went virtual. Our honorees each made their way to a hybrid celebration designed to honor them, while meeting COVID safety precautions at our plant. In a socially distanced conference room, Hobson & Motzer President Bruce Dworak paid tribute to Marcia Zingle, Chuck Rock, and Kim Gross for their 25 years of service. He shared some stories about each honoree's journey with the company and, above all, thanked each of them for their service and dedication before presenting them with their Rolex watch. Each honoree took a moment to express their thoughts on what this milestone, and Hobson & Motzer, has meant to them over their careers. The festivities were shared virtually on a Microsoft Teams meeting with our entire management team, co-workers, and colleagues who joined in from workstations, offices, and even some working remotely from home.
Hobson & Motzer Class of 1995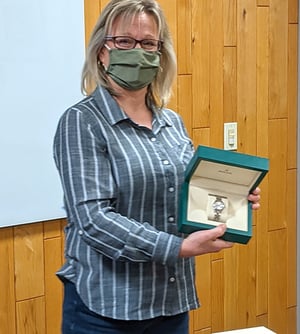 Marcia Zingle started at Hobson & Motzer as a Machine Operator in the summer of 1995. She moved across the shop throughouther career, from receiving to shipping. Marcia worked as a clerk and a shipping group lead before being promoted to her current leadership role as Shipping Coordinator. Before joining Hobson & Motzer, Marcia worked for Cooper Instruments, Pratt & Whitney, and W.A. Parsons. She graduated from Woodrow Wilson High School in Middletown.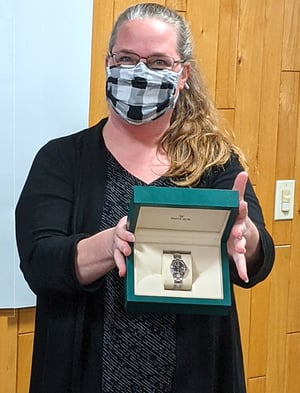 Kim Gross joined Hobson & Motzer in the engineering department in 1995, contributing to Hobson & Motzer's early qualitymanagement system (QMS) and the ISO 9001 certification Hobson & Motzer earned in 1996. As Compliance Manager, Kim lead Hobson & Motzer's 2020 effort to complete medical-device component certification to ISO 13485. In 2019, Kim was named one of MetalForming Magazine's Women of Excellence in Metal Forming and Fabricating for her leadership and encouragement of women to pursue a career in manufacturing.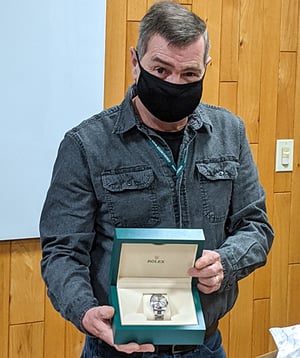 Charles H. Rock joined Hobson & Motzer as a Machinist in June of 1995 and has excelled in that role for 25 years. As a Machinist on second shift, Chuck plays a key role in fabricating all of Hobson & Motzer's tooling. Chuck came to Hobson & Motzer with 19 years of prior machining experience at Harco Laboratories and Parker Fluid Control Division. As a young man, Chuck served as a Private in the U.S. Army (1973-1975), and graduated from Wilbur Cross High School in New Haven.
Hobson & Motzer is fortunate to have one of the best and most dedicated teams in manufacturing. With a final congratulations to our honorees, each name has been added to our "25 Year Club" wall of fame, which is on display at each of our plants. This was a surely a bright spot in what has been a challenging year for everyone. How nice it was to end it on such a positive note.