The Advantages of PECM in Medical Device Component Manufacturing
As a supporter of manufacturing for over nine decades, SME has gone from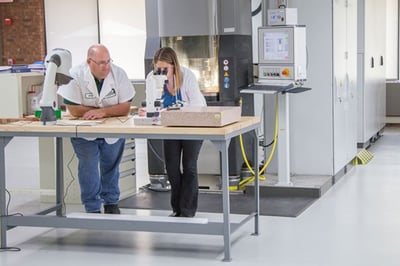 its roots as the American Society of Tool Engineers (and Society of Manufacturing Engineers) to cover a broad range of manufacturing interests. SME works closely with manufacturing professionals, companies, educators, and schools and communities to share knowledge and resources that generate solutions to manufacturing industry challenges. It does so in the form of membership, events, workforce development, and vast media exposure.
In a recent article* on the SME website, a technologies discussion explored PECM (precision electrochemical machining). The article is titled "PECM Eats Up Tough Metals" and it speaks with various medical device industry experts from the manufacturing side of the equation. Bruce Dworak, president of Hobson & Motzer, is cited several times.
The article begins by providing the history of the "birth" of PECM, which had its humble beginnings with Koninklijke Philips N.V. engineers trying to create a fine cutting edge on the Norelco electric shavers. The modifications made in the cutting process at that time have become the foundation of PECM, widely used in medical device manufacturing today. The article explains the PECM process in some detail, along with PECM's ability to handle "tough-to-machine materials and complex geometries" so common in today's medical devices.
As Dworak notes in the article, "Because they're small parts with stresses on them (during use), they tend to be made out of harder materials, higher-strength materials." Ilene Wolff, the author of the SME piece, says of Hobson & Motzer, "As a precision metal component manufacturer that has long supplied the medical device market, the company has worked through the evolution of stapling technology and the demands placed on device components."
Material characteristics, such as the hardness or tightness of the grain, are always a concern when transforming metal. Skilled talent and experienced operators and engineers know how to get the most out of any forming process. The article notes the difference between EDM (electrical-discharge machining) and PECM. PECM is notably highly capable of working with "tough" metals.
As the article points out, here are some characteristics and advantages of machining with PECM:
Materials must be electrically conductive (as with EDM)
An electric current and an electrolytic solution work together to dissolve the metal on a workpiece

The electrode remains intact
Can remove material quickly and can run multiple configurations and components at the same time
Doesn't add stress that can lead to cracks or parts failure
Produces a superior mirror finish
Excels at machining tight grain structures, even in a heated state
Elaborating on this point, Dworak, states, "If you have something that needs to be processed after it's been heat treated, like say a 465, something that's really hard, a 440 or 420, those would be some of the better applications because it doesn't care that they're heat treated or not, it doesn't care how hard they are."
As Wolff further explains, manufactures can split productivity, because multiple parts can be machined simultaneously with the proper tool. Wolff continues, quoting Dworak: "It'll take the exact same amount of time to make two or three or five parts as it would one, once you get going. So it's a matter of that initial investment (in the tool) and having enough energy and electrolyte in the machine to accommodate it."
"PECM Eats Up Tough Metals" further speaks to the three roles that the electrolytic solution plays in PECM, and later discusses the benefits it has on a tool's longevity. Much of the cost is seen on the front-end of projects; PECM machines are high amperage and low voltage, so they cost less than other machining methods to use. As well, they require less maintenance and are self-sustaining. The sweet spot for PECM is definitely a mid- to high-volume manufacturing solution, and worth looking into for those who need tighter tolerances, small parts or components, and complex geometries.
Hobson & Motzer: From Our Team to Yours
A team that brings a 360-degree perspective from all disciplines involved in the inception, design, and production phases of manufacturing is stronger, more nimble, adaptive, and effective. We work closely with you to provide exactly that. Hobson & Motzer excels with products that require more than a single operation or products that require multiple manufacturing processes, ensuring accountability and continuity in our protocols and the highest quality, precision, and repeatability in customers' parts and components. Legacy knowledge, a deeply collaborative approach—internally and with customers—along with our vertically integrated secondary operations, give customers access to a complete suite of services and capabilities, exceptional support, and over 10 decades of manufacturing expertise.
Our PECM expertise allows us to shape hardened metal in complex shapes in high volume with consistent results, making your intricate designs a reality. We can PECM any grade of material, any hardness, without the need for a post-heat-treat operation.
If you'd like a look inside our facility, we invite you to join us for an in-person or virtual plant tour. See what 100-plus years of legacy expertise and contemporary technology can deliver for your precision metal components. We'd love to show you around. Click here to request a tour.
If you are interested in a successful collaboration for your next precision manufacturing need, contact Hobson & Motzer now. We'd love to discuss how we can help.
*Click the link to read the full article, "PECM Eats Up Tough Metals."